2021 | 9th SCOR Young European Researcher Prize for Alzheimer's Research
The eighth SCOR Young European Research Prize for research into Alzheimer's disease was awarded to Axel Montagne of the University of Edinburgh.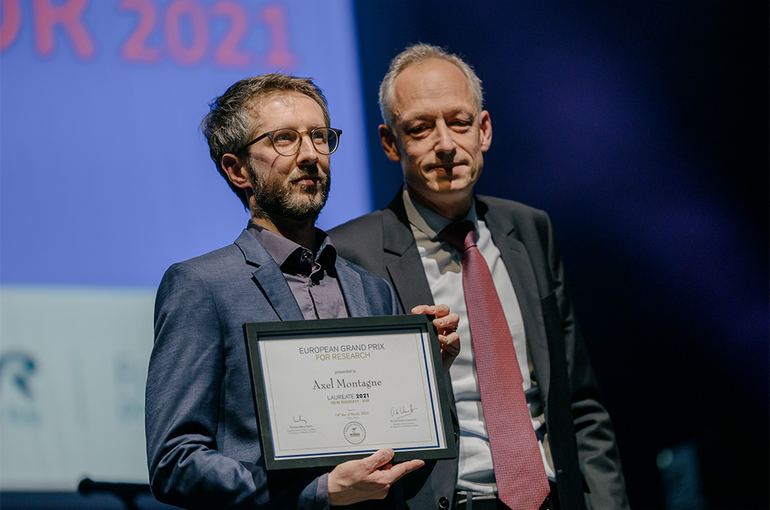 SCOR 2021 Young European Researcher Prize rewards work on the contribution of cerebrovascular dysfunction to neurodegeneration and cognitive impairment
French researcher Axel Montagne won the award for his research on how cerebrovascular dysfunction contributes to neurodegeneration and cognitive impairment in animal models and humans. In the context of neurodegenerative diseases, he studies the causes and effects of dysfunction of the blood-brain barrier, the main function of which is to isolate the central nervous system from the bloodstream, preventing potentially toxic foreign substances from entering the brain.
Axel Montagne has been a Chancellor's Fellow at the University of Edinburgh Centre for Clinical Brain Sciences since December 2020, leading a research group at the UK Dementia Research Institute. In 2012, he obtained a PhD in Neuroscience/Neuroimaging from the University of Caen. He then joined the University of Southern California (USC) in Los Angeles for a post-doctorate, before becoming an Assistant Professor in 2016 and then Associate Professor in 2020.
The award jury, composed of renowned European researchers, was chaired by Pr. Jean-François Dartigues of the Bordeaux Population Health Research Center. Commenting on the award, André Levy-Lang, Chairman of the SCOR Foundation for Science, said: "Advances in Alzheimer's disease research, which the SCOR Foundation has supported for many years, play a key role in managing the risks faced by older age groups."
 
"APOE4 leads to blood-brain barrier dysfunction predicting cognitive decline" 
Axel Montagne, May 2020
Click here to read the article
Axel Montagne on the French Alzheimer's Research Foundation (Fondation Recherche Alzheimer) website.
Publications by Axel Montagne
APOE4 leads to blood-brain barrier dysfunction predicting cognitive decline. 
Montagne A, Nation DA, Sagare AP, Barisano G, Sweeney MD, Chakhoyan A, Pachicano M, Joe E, Nelson AR, D'Orazio LM, Buennagel DP, Harrington MG, Benzinger TLS, Fagan AM, Ringman JM, Schneider LS, Morris JC, Reiman EM, Caselli RJ, Chui HC, Tcw J, Chen Y, Pa J, Conti PS, Law M, Toga AW, Zlokovic BV.
Nature. 2020 May;581(7806):71-76. doi: 10.1038/s41586-020-2247-3. Epub 2020 Apr 29. PMID: 32376954
Blood-Brain Barrier: From Physiology to Disease and Back.
Sweeney MD, Zhao Z, Montagne A, Nelson AR, Zlokovic BV.
The role of brain vasculature in neurodegenerative disorders.
Sweeney MD, Kisler K, Montagne A, Toga AW, Zlokovic BV.
Nat Neurosci. 2018 Oct;21(10):1318-1331. doi: 10.1038/s41593-018-0234-x. Epub 2018 Sep 24. PMID: 30250261
Vascular dysfunction-The disregarded partner of Alzheimer's disease.
Sweeney MD, Montagne A, Sagare AP, Nation DA, Schneider LS, Chui HC, Harrington MG, Pa J, Law M, Wang DJJ, Jacobs RE, Doubal FN, Ramirez J, Black SE, Nedergaard M, Benveniste H, Dichgans M, Iadecola C, Love S, Bath PM, Markus HS, Al-Shahi Salman R, Allan SM, Quinn TJ, Kalaria RN, Werring DJ, Carare RO, Touyz RM, Williams SCR, Moskowitz MA, Katusic ZS, Lutz SE, Lazarov O, Minshall RD, Rehman J, Davis TP, Wellington CL, González HM, Yuan C, Lockhart SN, Hughes TM, Chen CLH, Sachdev P, O'Brien JT, Skoog I, Pantoni L, Gustafson DR, Biessels GJ, Wallin A, Smith EE, Mok V, Wong A, Passmore P, Barkof F, Muller M, Breteler MMB, Román GC, Hamel E, Seshadri S, Gottesman RF, van Buchem MA, Arvanitakis Z, Schneider JA, Drewes LR, Hachinski V, Finch CE, Toga AW, Wardlaw JM, Zlokovic BV.
Alzheimers Dement. 2019 Jan;15(1):158-167. doi: 10.1016/j.jalz.2018.07.222. PMID: 30642436
Cerebral blood flow regulation and neurovascular dysfunction in Alzheimer disease.
Kisler K, Nelson AR, Montagne A, Zlokovic BV.
Nat Rev Neurosci. 2017 Jul;18(7):419-434. doi: 10.1038/nrn.2017.48. Epub 2017 May 18. PMID: 28515434
Blood-brain barrier breakdown in the aging human hippocampus.
Montagne A, Barnes SR, Sweeney MD, Halliday MR, Sagare AP, Zhao Z, Toga AW, Jacobs RE, Liu CY, Amezcua L, Harrington MG, Chui HC, Law M, Zlokovic BV.
Neuron. 2015 Jan 21;85(2):296-302. doi: 10.1016/j.neuron.2014.12.032. PMID: 25611508
APOE4 accelerates advanced-stage vascular and neurodegenerative disorder in old Alzheimer's mice via cyclophilin A independently of amyloid-β.
Montagne A, Nikolakopoulou AM, Huuskonen MT, Sagare AP, Lawson EJ, Lazic D, Rege SV, Grond A, Zuniga E, Barnes SR, Prince J, Sagare M, Hsu CJ, LaDu MJ, Jacobs RE, Zlokovic BV.
Nat Aging. 2021 Jun;1(6):506-520. doi: 10.1038/s43587-021-00073-z. Epub 2021 Jun 14. PMID: 35291561
Alzheimer's disease: A matter of blood-brain barrier dysfunction?
Montagne A, Zhao Z, Zlokovic BV.
J Exp Med. 2017 Nov 6;214(11):3151-3169. doi: 10.1084/jem.20171406. Epub 2017 Oct 23. PMID: 29061693
Alzheimer's pathogenic mechanisms and underlying sex difference.
Zhu D, Montagne A, Zhao Z.
Cell Mol Life Sci. 2021 Jun;78(11):4907-4920. doi: 10.1007/s00018-021-03830-w. Epub 2021 Apr 12. PMID: 33844047
Magnetic Resonance Imaging of Blood-Brain Barrier permeability in Dementia.
Chagnot A, Barnes SR, Montagne A.
Neuroscience. 2021 Oct 15;474:14-29. doi: 10.1016/j.neuroscience.2021.08.003. Epub 2021 Aug 13. PMID: 34400249
More publications by Axel Montagne are available on the National Library of Medicine website.