The SCOR Corporate Foundation for Science is proud to support France's Alzheimer's Research Foundation through this SCOR Young European Researcher Prize.
Body
Extending and reinforcing a partnership initiated by SCOR in 2008, the SCOR Corporate Foundation for Science signed a sponsorship agreement with the research program of France's Alzheimer's Research Foundation (Fondation Recherche Alzheimer) on June 12, 2013. As well as creating an annual award for young European researchers, the agreement enables the Research Foundation to continue observing a cohort of patients as part of a long-term study of Alzheimer's sufferers, and to promote cooperative research in this field with scientists from other countries.
Florence Clavaguera, winner of the first award in 2013,
talks about how the prize changed her career.
2021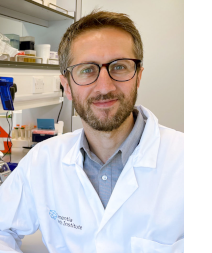 French researcher Axel Montagne won the award for his research on how cerebrovascular dysfunction contributes to neurodegeneration and cognitive impairment in animal models and humans. In the context of neurodegenerative diseases, he studies the causes and effects of dysfunction of the blood-brain barrier, the main function of which is to isolate the central nervous system from the bloodstream, preventing potentially toxic foreign substances from entering the brain. Axel Montagne has been a Chancellor's Fellow at the University of Edinburgh Centre for Clinical Brain Sciences since December 2020, leading a research group at the UK Dementia Research Institute. In 2012, he obtained a PhD in Neuroscience/Neuroimaging from the University of Caen. He then joined the University of Southern California (USC) in Los Angeles for a post-doctorate, before becoming an Assistant Professor in 2016 and then Associate Professor in 2020.
2020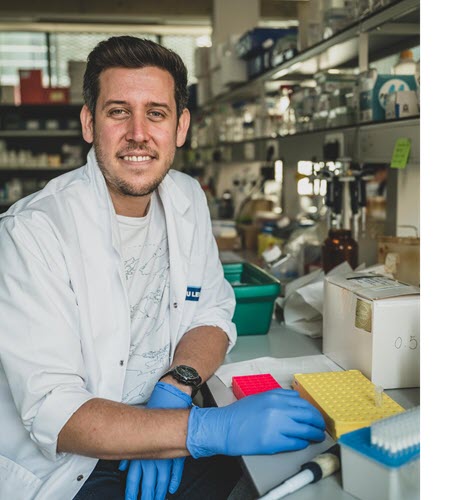 The seventh SCOR Young European Researcher Prize for Research into Alzheimer's disease was awarded to Renzo Marcuso of the Gothenburg University in Sweden. Renzo won the award for his findings on microglia and neuroinflammation, which play a central role in the pathogenesis of Alzheimer's disease and other neurodegenerative disorders. A young Italian-Argentine biologist, Renzo Marcuso works with Pr. Bart de Strooper at the VIB UAntwerp Center for Molecular Neurology in the Netherlands. His primary focus has been on examining the underlying molecular mechanisms that drive Alzheimer's disease (AD) and frontotemporal degeneration (FTD), with a special emphasis on inflammatory networks and particularly the contribution of microglia. He uses mouse models, iPSC and cutting-edge humanized mouse systems to determine the immune component of these disorders and determine how genetics alter microglial function and contribute to the initiation and perpetuation of brain disease. Click here for more information and here to read Renzo's entry form.
2019
The 2019 SCOR Young European Researcher Prize for Research into Alzheimer's disease was awarded to Dr Federica Agosa, medical doctor and researcher at the San Raffaele Hospital in Milan. Using MRI (magnetic resonance imaging) techniques, her work aims to identify functional and structural markers of degeneration to enable early diagnosis of Alzheimer's and related disorders. She is also particularly interested in young-onset Alzheimer's disease. She has published more than 200 articles in specialist scientific journals. The jury of renowned European researchers was chaired by Professor Jean-François Dartigues of the Bordeaux Population Health Research Center.
Commenting on the award, André Levy-Lang, Chairman of the SCOR Foundation for Science, said: "Advances in Alzheimer's disease research, which the SCOR Foundation has supported for many years, play a key role in managing the risks faced by older age groups. Dr Agosta's research is helping more specifically to pursue the age-old goal of prolonging life expectancy."
2018
On February 12, 2018, the 5th SCOR Young European Researcher Prize for Research into Alzheimer's disease was presented to Erik Portelius of Sweden's Gothenburg University, for his findings on a new biomarker that enables earlier detection of the condition. 
This new biomarker, a protein called neurogranin, paves the way for a better understanding of the disease. It allows doctors to estimate the extent of the damage to patients' synapses and also to predict the rate of cognitive decline in patients with mild cognitive impairment. By measuring the new biomarker, the disease can be detected at an earlier stage than previously, since the loss of synapses is believed to occur early in the disease process, perhaps even earlier than neuronal loss. Until now, the degree of neuronal loss has been a difficult thing to identify in Alzheimer's sufferers. The measurement of neurogranin, which will soon be implemented as part of a routine clinical analysis at the Clinical Neurochemistry Laboratory in Gothenburg, Sweden, involves extracting cerebrospinal fluid during a harmless lumbar puncture or spinal tap, which is then tested for the neurogranin protein. Click here for more information.
Body
2017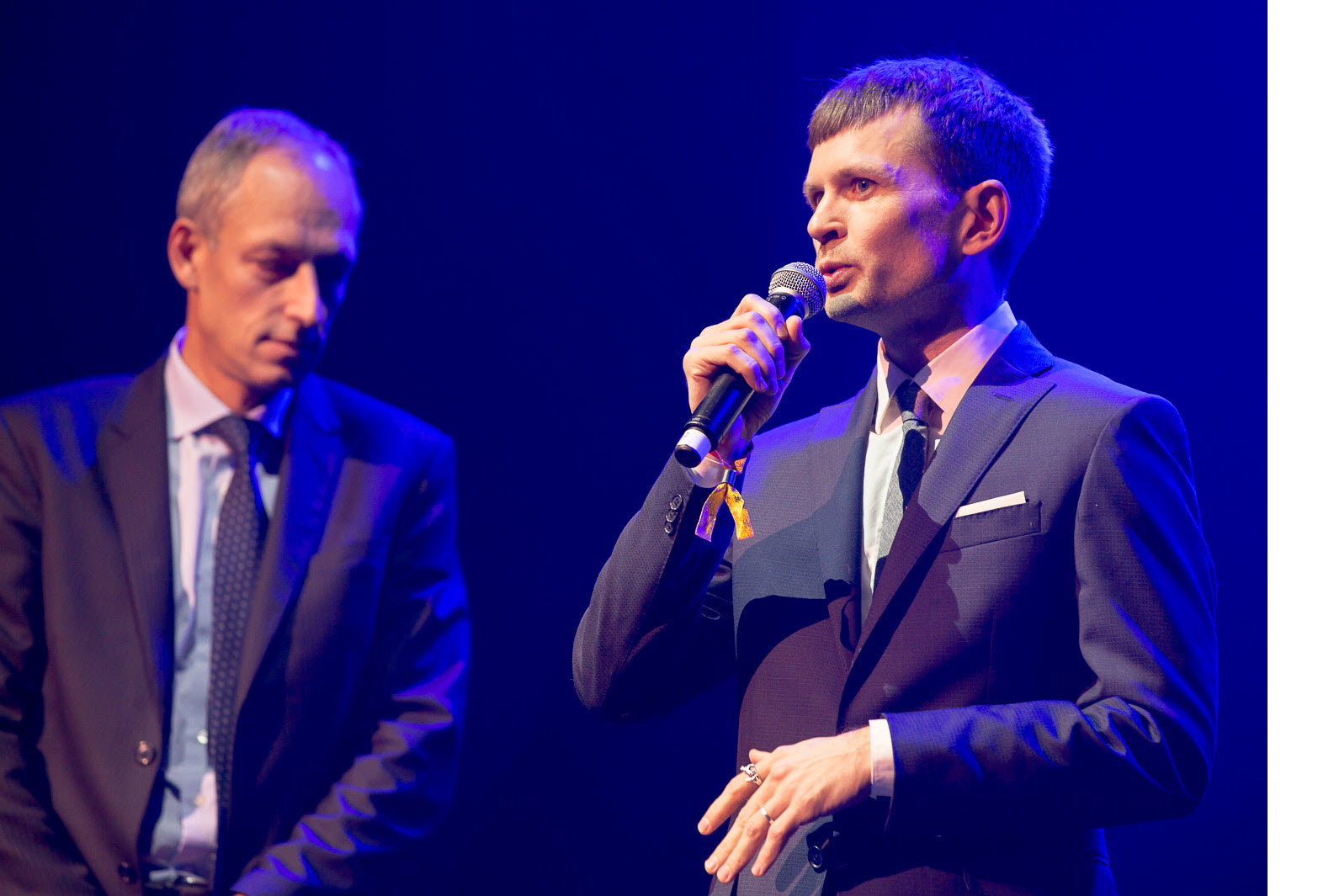 The Scientific Committee of the French Alzheimer's Research Foundation, comprised of eight European neurology professors, has named Dr. Niklas Mattson of Sweden's Lund University as the winner of the 4th SCOR Young European Researcher Prize, which is financed by the SCOR Corporate Foundation for Science.
Dr. Niklas Mattson's original research on biomarkers has improved medical knowledge of disease mechanisms in the early stages of Alzheimer's disease.
A biomarker can be defined as "a naturally occurring molecule, gene, or characteristic by which a particular pathological or physiological process, disease, etc. can be identified". Proteins or other molecules found in fluids such as blood or cerebrospinal fluid can constitute biomarkers, as can physiological or anatomical changes observed using techniques such as functional magnetic resonance imaging (fMRI), which uses MRI technology to measure brain activity by detecting changes associated with blood flow, and positron-emission tomography (PET), a scan that uses a radioactive substance called a tracer to look for disease in the body. Click here for more information.
2016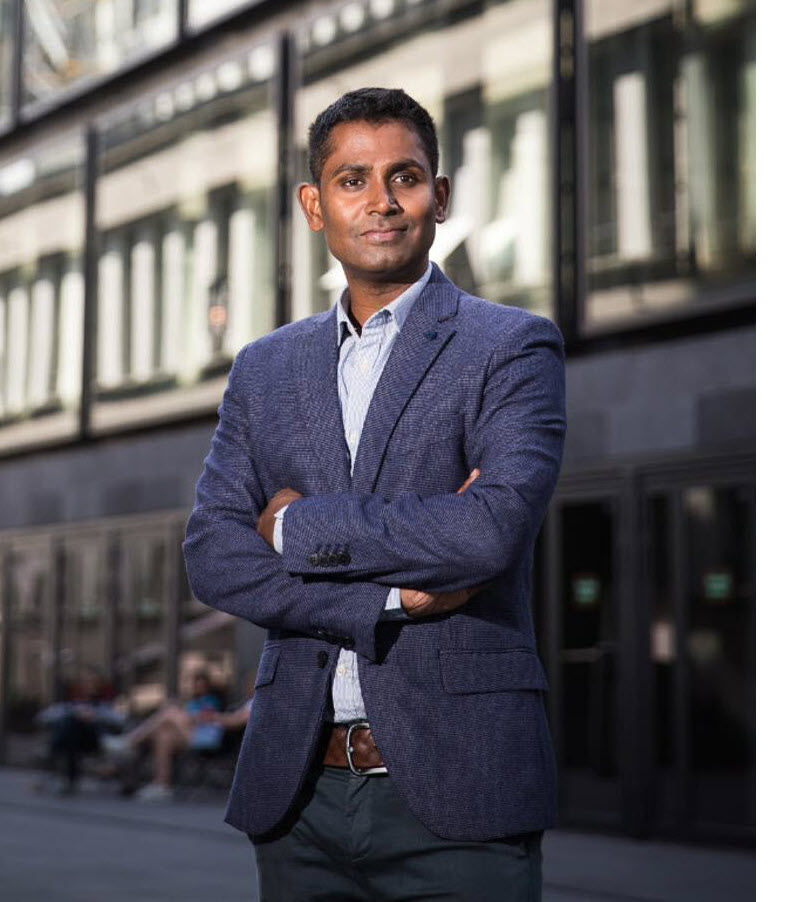 The 3rd SCOR Young European Researcher Prize, financed by the SCOR Corporate Foundation for Science, was awarded to Dr Lawrence Rajendran of the University of Zurich.
Lawrence Rajendran's remarkable work notably deals with the genes that predispose people to develop Alzheimer's disease. For neurodegenerative diseases it is often impossible to isolate one responsible gene, which was previously the case for Alzheimer's disease. However, the emergence of functional genomics methods and computational tools has led to advances in the understanding of the complex molecular networks underlying the disease.
Lawrence Rajendran's work also deals with the link between food and the development of neurodegenerative diseases. Consuming too much protein, which is found for example in red meat, incites the brain to use this source of energy instead of consuming the proteins present in its own cells. This overconsumption encourages an accumulation of abnormal proteins in the brain's cells. These amyloid proteins formed in the brain play a role in the development of Alzheimer's disease. Aside from nutritional recommendations, Lawrence Rajendran's work opens the way to possible medical developments, with the use of medication that encourages the brain to refuse this external source of protein and focus instead on its own resources. Click here for more information.
Title
For more information
Publications by the prizewinners